When spec'ing and deciding the best reefer trailer to buy, there are two primary things you need to analyze. They are the reefer unit and the actual trailer.  In this article only the actual trailer will be analysed which includes factors such as the brand, size, doors, suspension, insulation, tires, flooring, and permeability
How to Spec' the Best Reefer Trailer to Buy
First spec'ing the actual trailer will be covered and we will explore the top options on the market today.
Brand
There are numerous trailer manufacturers in North America but the top 3 are Great Dane, Utility, and Wabash.
Great Dane
Great Dane Trailers has been around since 1900 when it was established by J.P. Wellness and T.H. McMillan as what then was called the Savannah Blowpipe Company based in Savannah, Georgia. They didn't truly begin manufacturing trailers until 1931 after the company hired Mr. William Lowndes to build trailers for over-the-road freight hauling. Great Dane produces dry vans, reefers, truck bodies, and flat beds.
Great Dane currently offers 3 reefer models all of which are part of the Everest product line. For instance, there is the Great Dane Everest TL, SS, and CL.
Wabash
Wabash is a relatively new company when compared with Great Dane and Utility but the company states it has made up ground with a legacy of innovation. It has been stated Wabash has over 70 recognized patents. Wabash markets itself as the economical alternative to other brands in that their trailers work to improve each owner's bottom line while delivering optimum thermal performance. Wabash manufactures a wider range of trailer equipment including dry vans, reefers, flat beds, truck bodies, aerodynamic improvers, intermodal trailers, and converter dollies. Also, Wabash has a department that manages the buying and selling of used trailers. However, judging from their inventory it appears majority of the trailers for sale are of the Wabash brand or their subsidiaries Benson and Transcraft. As with many used trailers, they are likely sourced from expired leases or from fleets who previously owned them. For the past few years, including 2016, Wabash has been ranking #1 in total trailer production. Like Utility, Wabash National also offers a single model type for their reefer offering which is the Artice Lite.
Utility
In 1914 the Bennett Brother both E.W. and H.C. set out to build heavy-duty trailers and did so with the company's first single axle trailer that had the capacity to comfortably haul 60 bales of cotton. It is common for the Utility Trailer Manufacturing Company to get confused with the type of trailer that also is called a utility trailer which are commonly seen hitched to pickup trucks. Nonetheless, the Utility Trailer Manufacturing Company only builds dry vans, reefers, and flat beds. Currently, Utility is reported to be the top reefer manufacturer in North America since 1994.
Note over 30,000 trailers were recalled from several different manufacturers in 2016.
Utility currently only manufactures one utility trailer model which is the 3000R which is available in single and multi-temperature configurations.
Note over 30,000 trailers were recalled from several different manufacturers in 2016. 
Size
There are two factors to consider when evaluating size with reefer trailers. First are the size implications of the reefer unit itself, and second is the size implications of the trailer. A larger trailer such as a 53′ compared to a 48′ requires a bigger reefer unit. Moreover, as internal trailer temperature requirements get colder and outside temperatures get warmer, bigger reefer units are required. Trailer size will also affect the quality of the air chute technology that must be installed because the air chutes are responsible for ensuring the entire trailer is well circulated with the desired temperature setting. When assessing the air chutes, take a look at the positioning of them throughout the trailer and hypothetically track the airflow as it would flow to ensure uniformity. Some trailers have air chutes installed along the center while others like UniFlow-Advantage feature them along the corners because center chutes are prone to damage such as when a forklift operator is loading or unloading freight.
Furthermore, depending on the size of the trailer you're interested in and your average payload weight capacity, you may want to consider a spread-axle configuration. A spread axle is when the rear axles of the trailers are spread out which provides benefits such as a more equal weight distribution. However, because most spread axles are configured with a forward front axle, the front tires are most susceptible to drag, skid, and wear out during turns. Therefore, it is crucial for the front tires to be of high quality, preferbably new.
Doors
The doors are an essential component of a reefer trailer. There are two main types of rear door openings, which are swing and roll. It is relatively easy to visually differentiate a swing door from a roll door. It is advised to choose a swing door reefer trailer because they maintain insulation performance superiorly compared to roll-up door reefer trailers. Also, the vast majority of shipments are dock loaded/unloaded so they generally require a tuck-away lift-gate that works best with swing doors. Furthermore, swing door are capable of keeping one half cool while the other door is open, especially when coupled with curtains.
Reefer trailers are also likely to have side doors also sometimes referred to as vent doors because they are for ventilation which may be left open when transporting a load to improve air circulation. Vents on the swing doors are required to be pinned open for certain produce loads because the product emits gases that can accelerate decay. Some trailers will have a side door for purposes such as delivering loads in narrow alleys.
Built in data recorder can improve the accuracy of temperature monitoring and help you if a shipper makes a claim because you will have court-presentable, un-tampered records direct from the reefer computer. Furthermore, a temperature data recorder can may also help in reducing your premiums in terms of motor truck cargo liability insurance.
Does it have air-ride suspension?
Most trailer company's including Wabash, Great Dane, and Utility use Hendrickson suspensions and axle configurations in their refrigerated vans. The main choice buyers have is to choose between a mechanical spring suspension and an air-ride suspension.
A spring-ride suspension relies on semi-elliptic leaf springs to pad the freight from road shock. Air ride replaces the use of steel suspensions with air valves, lines, and springs. The air compressor and air reservoir of a semi-tractor's braking system is very similar to an air-ride suspension. SAF Holland is a major manufacturer of spring-ride suspensions for dry van and reefer trailers.
Air-ride suspensions are required to be set to a specific ride height because it affects the load equalization among the axles and an inaccurate setting can cause fluctuations in load carrying capacity. Here is a Hendrickson ride height identification guide.   A two-inch tire clearance is also generally required. One height-control valve is generally the norm on Hendrickson air suspensions and the use of more than 1 may void the warranty.
Therefore, pay attention to this small fact when purchasing a used trailer.
Air suspensions must have air dump valves and springs to prevent trailer walk which is one of the downsides of this type of suspension configuration. Trailer walk is the forward movement of a trailer when it is positioned at the loading dock. This is the result of the forklift making constant trips in and out of the trailer. Most docks will have a red and green LED dock lights that will signal to the forklift operator whether it is safe to enter the trailer.
The differences between the number of leaf spring will have an effect on the type of load that is best suited for the suspension. Air ride suspensions are the most amongst van trailers.
Insulation
Insulation is one the two main factors aside from the refrigeration unit that makes reefers different from dry vans. Refrigerated vans should have insulation in the walls, ceiling, and floor. Insulation amounts are usually in the range between 2 and 5 inches and the more insulation the better but take into account the insulation type, weight/payload size implications etc. The trailer should be lined with foam-type insulation and not the traditional glass wool and vermiculite. The traditional trailer insulation methods use panels that are generally welded together which leave the potential for possible gaps to develop at the corners.
Unfortunately, as reefers age the insulation system degrades due to trailer damage. This is an important thing to consider if you are thinking about investing in a used trailer. In the industry, the ability for a refrigerated van trailer to retain and maintain its cooling capacity is called thermal performance. The refrigeration unit will have to work harder to compensate for the temperature fluctuations caused by the worn-down insulation which increases fuel and maintenance costs.
The insulation and sidewalls are vulnerable to holes and dents caused by the movement of a forklift during the loading/unloading process. If these holes or dents have been professionally patched, it may be overlooked. Outside dents and holes on the trailer's exterior walls are prospects for moisture build-up and loss of thermal efficiency. There are several negatives to moisture build-up in the trailer walls. Firstly, if the amount of water in the walls is significant then it can lower your payload capacity and therefore you should get it weighed at a scale and compare that to the manufacturer's specs to evaluate the difference.
Water Permeability
On today's marketplace, trailer manufacturers have redesigned their insulation systems to minimize water permeation and maximize thermal performance. Water permeation is the transfer of moisture through the exterior wall into the insulation. All of the three major manufacturers utilize some type of thermoplastic or fiber in their trailer panels, and all of the panel types are made from polymers. Polymers of every type are permeable to an extent. The goal is to find the best reefer trailer to buy that has the best reefer liner and thermal performance.
Conditions that increase water permeability
One-way water permeability can accelerate is in warm temperatures. While the chance for moisture to diffuse into the insulation is low when the refrigeration is active, there is a greater risk of diffusion when the trailer is parked and the reefer unit is not running. This is mainly because warm moisture has more kinetic energy and greater ability to move as opposed to its colder counterpart.
Insulation Liner
Most of the insulation liner you'll see will either be made of thermoplastic or thermoset. These two materials are semi-crystalline polymers. As heat increases the temperature gets closer to the glass-transition point (Tg) and the diffusion of the water molecules increase because the degree of crystallinity goes down. The higher the crystallinity degree is the more organized the polymer materials are and lesser amounts of water can seep through. Now getting back to the properties of plastics, it should be noted that thermoplastics are semi-crystalline and yes, they do have better crystallinity when temperatures are low but when they are exposed to heat they soak up more moisture compared to thermoset material. Therefore, if your business will be using the heating function of the reefer unit, you want to be cautious with thermoplastic based liners because you increase the chances for water damage. On the plus side, thermoplastics such as polypropylene has very good insulation properties and is lightweight. Thermoset has a greater effort and cost requirement to repair.  Most thermo-plastic liners today are reinforced with glass fiber material which compensates for the durability challenges. Also, thermoplastic liners should not be of too much concern if you will be running loads in a region where the temperatures are generally cool. Occasionally, the hot summer day will require electric stand by to be switched on when the reefer is idle to keep it cool and to maximize insulation protection.
The FRP thermoset based liner you will encounter in some trailers is commonly under the KEMLITE® brand and thermoplastic liners examples include Versitex and ThermoGuard. Wabash uses Kemlite which is one of the main features of their SolarGuard technology that is designed to make reefer roofs more resistant to heat absorption from the Sun's UV rays. This is very beneficial because thermoset is generally more heat resistant than thermoplastic, ensuring that the foam retains its structure in the area of the trailer that has the greatest heat exposure risk. Great Dane uses an aluminum sheet for its roof lining in its Everest Refrigerated Trailers. In contrast, Utility Trailers use the proprietary Versitex VR2U panel that is made up of composite (combined) material that perform similar to aluminum.
Type of Foam
Polyurethane foam is the industry standard that is used by all of the three big trailer manufacturers. However, they use different methods to inject and line the sidewalls with the foam which each have separate effects on thermal efficiency. Wabash and Great Dane use a modular panel foaming process and Utility Trailers uses a mandrel foam-in-place foaming process. It is possible to distinguish the type of foaming process used because mandrel and modular produce different consistencies in the wall's smoothness. Watch the videos below to understand the difference and choose for yourself which you think would be better:
Scuff plates should be included in the refrigerated trailer.
Flooring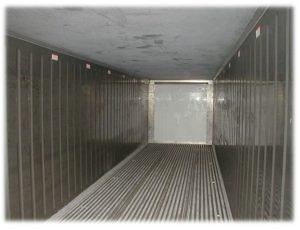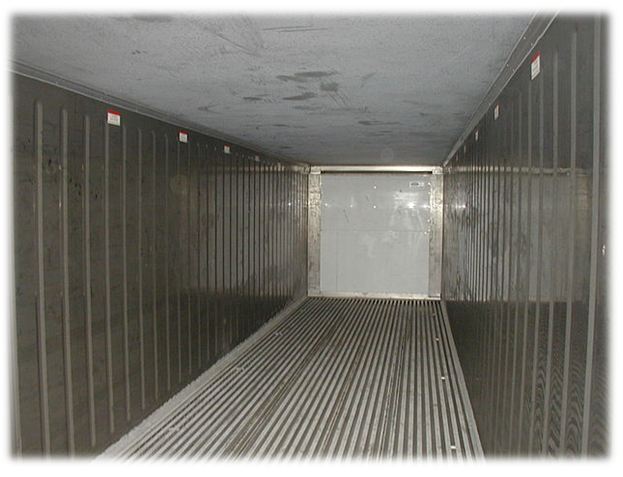 The flooring in a refrigerated trailer should never be a plywood floor and if it is (rare case) you may be looking at an insulated or dry van that was converted to a reefer. Reefers have ribbed/extruded aluminum duct floors. As a side note, refrigerated vans need to be cleaned with a reefer trailer broom which you can buy here. If you want to reduce the risk of moisture permeation damaging the insulation, consider the SafeSpace Germ Fogger which is one of the premier reefer cleaner products available today.
Aluminum floors are used so that the pallets can be protected from water damage from melted ice particles on frozen foods because the moisture will dive into the lowered extruded platform while the pallets sit atop. Moreover, the extrusions allow for air to circulate through the bottom of the trailer and in/around the load.
Tires
Low-rolling resistance tires, preferably from Michelin are recommended. 22.5-inch size is also, the common standard.  You will need to carefully assess the tires if you opt for a spread axle. Irregular wear on the tire treads is usually a non-problem but if it is significant there may be an alignment issue. Recap tires should generally be avoided.
Payload Impacts
A 40,000 lb capacity tandem axle configuration should be the standard. A 53 feet reefer is integral because the insulation reduces the available space which would make the 48-footer already smaller than it is.
Conclusion
The aforementioned information provides in depth information on spec'ing the best reefer trailer to buy as it relates to the body of the trailer. There are other considerations that should be factored in that were not included in the article such as the model year. To additional consulting, please contact us directly or seek advice from a trained reefer professional at your local trailer dealership.