The International Fuel Tax Agreement (IFTA) is an agreement between 58 North American jurisdictions that directs a single system for administering and collecting fuel taxes from inter-jurisdictional motor carriers. Motor carriers register for an IFTA license with their base jurisdiction and receive authorization to travel in other IFTA member jurisdictions.
There are three types of IFTA credentials which are the IFTA license, decal, and temporary permit. Each commercial vehicle a motor carrier operates requires a placement of a set of two decals on the outside of the vehicle's cab. The IFTA decals come with written instructions on where and how to apply them. The decals have the trucking company's IFTA serial number written on them.
When do IFTA stickers need to be displayed?
IFTA decals are to be replaced by December 31st of each calendar year. A motor carrier can request the number of decals they will need based on their annual operational projections. This request is made during the annual IFTA license renewal which is accompanied with a $100 license fee. It is advised each motor carrier submit their renewal application for their IFTA license at least 1 month prior to the end of the year in order to ensure timely delivery of their decals. If you do not receive your decals before December 31st of the calendar year, you are still granted a 2 month grace period for the following year which includes the months of January and February. During these two months you may continue operating in IFTA jurisdictions without displaying the current year's IFTA decal as long as you display a valid prior year IFTA decal and held a valid prior year IFTA license. This grace period only applies to the placement of the IFTA decals. You must still file your IFTA License renewal prior to the end of the calendar year.
Motor carriers with renewed credentials may operate with the IFTA decals and license two months before the date the credentials go into effect. However, those carriers who wish to do this must file their fourth quarter report for the previous year before the effective date of the new credentials.
No IFTA Sticker Fine Amounts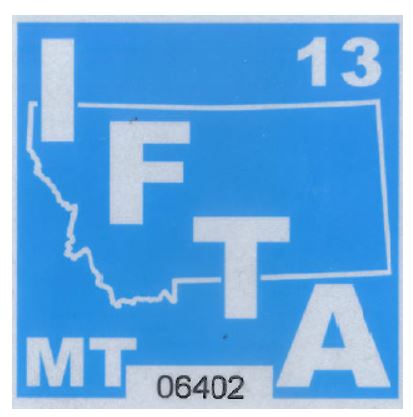 Having no IFTA sticker displayed can result in a fine amount that varies based on the applicable jurisdiction. However, fines for failure to display your IFTA decals range between several hundred to a couple thousand dollars. For example, the State of Illinois has a minimum $1,000 penalty for failure to display motor fuel use tax stickers.
Temporary Permits
If a motor carrier is adding an additional vehicle to their fleet but do not have extra IFTA decals in possession, they may consider obtaining a temporary IFTA permit. This is especially helpful in scenarios where a motor carrier wishes to begin operating the commercial motor vehicle in member IFTA jurisdictions as soon as possible. The temporary IFTA permit is vehicle specific and valid for 30 days. Decals to replace the temporary permit should be mailed and received within the 30 days and prior to the expiry of the permit.