Uncover the best jack for your lifted truck. As you would know, lifted trucks as the name suggests are those which have a higher ground clearance than ordinary vehicles. Ordinary jacks are not enough if you are planning to get repairs done on your lifted truck. For your needs, you will need a jack that can raise your vehicle high enough and should also be able to handle the weight.
To cater to these demands, one has to invest in a jack that is specially designed for lifted trucks. An ideal jack for a lifted truck is one that has a great lifting reach, quality construction, and most importantly should be easy to handle.
The first part of this article focuses on covering the essential features you should look for while opting to buy a lifted truck jack. In the second half of this write-up, we will be listing some of the best-lifted truck jacks that are currently available on the market.
Type of Jack: Lifted truck jacks are of three types – Hi-Lift Jacks, Bottle Jacks, and Floor Jacks.
Floor Jacks are better for using within your workshop as these are heavier than a typical jack. Bottle Jacks are named so as they appear in the shape of a bottle. These are ideal to make repairs on lifted trucks due to its collapsed height. Hi-Lift Jacks, also known as Farm Jacks were created to make repairs on farm trucks.
Farm jacks can raise your lifted truck higher than other jacks. · Lifting Capacity & Reach: Your choice of jack should be dependent on how much your vehicle weighs. The actual capacity of a jack is usually lower than what is marketed by the manufacturer, so when you arebuying a jack make sure it can lift a load more significant than the weight of your truck. Keep in mind that most lifted trucks weigh 5 tons or more, so don't go for a jack that has a functional capacity of fewer than 2 tons.
Materials Used: Most jacks usually are made of either cast iron or aluminum.
Aluminum jacks are lighter in weight but are more expensive. On the other hand, jacks made of cast iron are more massive but are less expensive when compared with aluminum jacks.
Price: When you are buying anything intended for long-term use then price should never be in consideration. The better products are mostly expensive and if you do have the money, then do not go for something cheap because it will end up costing you more in the long run.
Lifting Speed and Sturdiness: How many strokes does it take for the jack to lift the truck to a workable height? A standard jack can make around 8 to 10 strokes and should be a factor you should consider while buying a jack. Also be sure to get a jack that does not bend or shake when lifting your truck.
Top 5 Lifted Truck Jacks in 2018
Powerbuilt 629471 Unijack – 6000lb. Capacity
The first thing you would notice with this jack is the triangular frame that resembles a typical jack-stand; this helps you avoid the need for a separate jack stand. The product can handle weights up to 3 tons and lift the same to a height of 21inches. Another feature of this jack is that it can safely lift and hold
uni-body and body-on-frame trucks that have minimum support points. The jack is also of lightweight and thus makes it an ideal option to carry with you. Lastly, this product comes with a safety bar that locks in after reaching the desired height and thus prevents it from slipping. ·
Arcan ALJ3T Aluminium Floor Jack – 3 Ton Capacity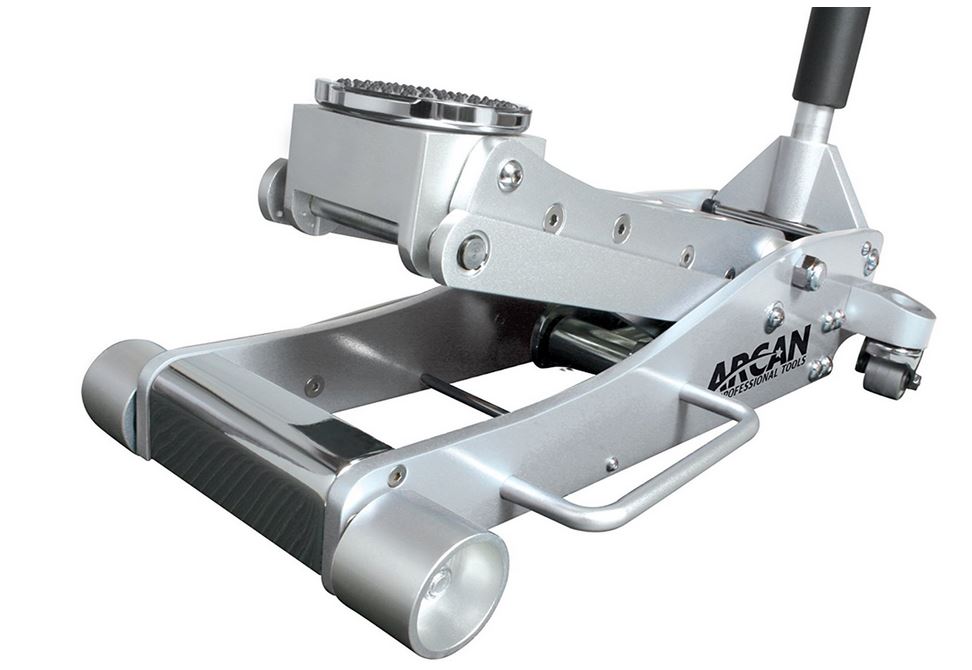 Unlike typical floor jacks that are heavy, Arcan's Aluminium floor jack is of lightweight and thus makes it an ideal product to use in any situations. The jack can lift up to a weight of 3 tons to a height of 19.8 inches, giving you a higher clearance than an ordinary floor jack. The product holds within itself a piston dust shield which helps to prevent hydraulic contamination. Arcan's jack is mounted on top of swivel caster wheel on the rear and wide truck wheels at the front. Add to this, the jack gives off an excellent visual appearance and is the perfect product to handle heavy loads. ·
ATD – 7390 5 Ton Long Chassis Service Jack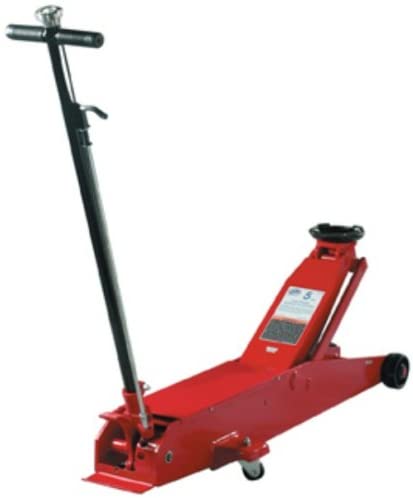 ATD's long chassis service jack can lift up to a weight of 5 tons ensuring that you can handle even the heaviest of loads. The jack can lift the vehicle up to a height of 27 inches by using the actuated handle release valves that provide it with precise and metered lowering control. The steel frame that is made from heavy gauge gives it with strength and prevents distortion irrespective of the load. ·
Torin Big Red Hydraulic Jack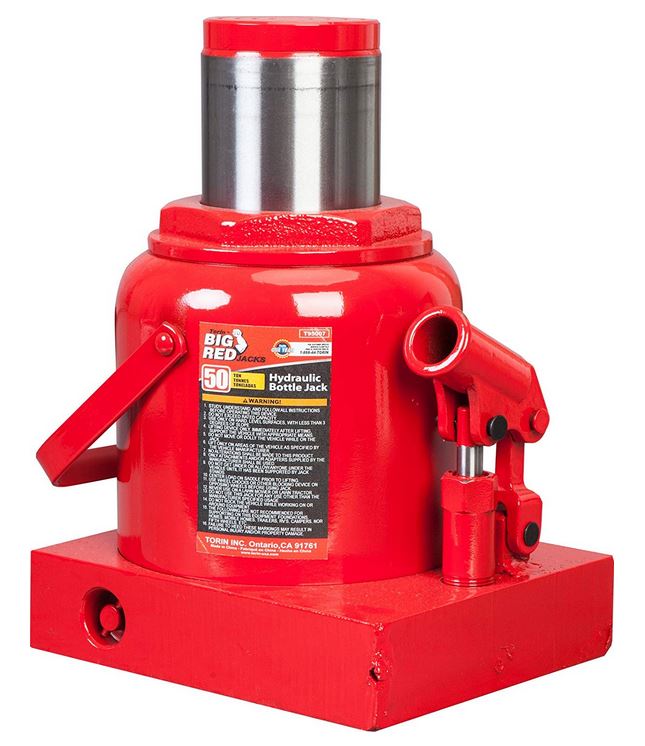 Similar to other bottle jacks, Torin's Hydraulic Jack is of lightweight and is also smaller in size. The product comes at a reasonable price and can handle a weight up to 12 tons. Torin does manufacture variants of the same jack that can handle 50 tons or less. As for the 12-ton variant, it can lift the vehicle to a height of 18.11 inches. Durability and stability of this jack are ensured thanks to its alloy and industrial quality of manufacturing. The jack also comes with a glide action pump which provides effortless operation. Last but not the least, the jack is both dirt and water resistant and thus only requires minimum maintenance. ·
Hi-Lift Jack HL484 48" Black Cast Jack

It's not a case of saving the best for the last, but Hi-Lift jack is arguably the best of the lot mentioned in this list. Hi-Lift's products are renowned for its durability and quality of design, this particular product from them holds true in both these regard. This jack is one of the few products out there that can raise your vehicle to a height of up to 4 feet. Its lifting capacity of 3.5 tons also makes it a superior option to its contemporaries. The jack has been made from a combination of cast and stamped steel parts. Hi-Lift's jack comes with it a shear bolt that prevents it from operating on a load more significant than its lifting capacity.