Canadian businessman Dan Einwechter rides a motorcycle for relaxation. Twenty years ago, he took an evening course in motorcycle safety. One of his employees, who took the same course, spread the story of what happened there. At the start of the first class, the teacher asked the students to introduce themselves. The employee said he was a truck driver and that he worked for Challenger Motor Freight.
When it was Einwechter's turn, he said, "I work with Dave at Challenger." But the instructor wanted more. When Einwechter said he worked in the office, the teacher asked him for a specific job description. Finally, Einwechter said, "All right, I own the damned place. Is that good enough?"
At the time, Challenger operated about 350 heavy trucks in Canada and a subsidiary operated another 300 in the United States. In those days, Einwechter often wore blue jeans and could easily be mistaken for a worker. Since then, both Einwechter and his company have changed.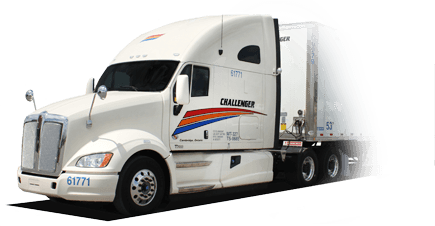 "I still think of my self as a brash young kid starting a business," he says now, "but then I look in the mirror occasionally and realize that's not true any more." Challenger and a couple of subsidiaries now employ more than 1,700 people and operate about 1,400 high-way tractors as well as 3,000 trailers. The company manages more than 60,000 square metres of warehouse space and a few other businesses in the Waterloo region, about 100 kilometres west of Toronto. Einwechter has served as chairman of both the Ontario Trucking Association and the Canadian Trucking Alliance and is still a member of the executive of both organizations. His company regularly receives awards for efficiency.
The brash kid has grown up, but it was not easy. Einwechter's stepfather was a truck driver and, working on farms as he grew up, Dan began driving trucks when he was about 14. He was not allowed to drive on the road in those days, but he could drive in the fields during harvest. At 16, he was licensed to drive on the road.
He liked trucks, but he didn't want to spend his life driving them. After high school, he began a four year business-administration course at Wilfried Laurier University in Waterloo. Near the end of his second year, he mailed 100 letters to local businesses, offering his services as a truck driver.
"Now I would call it junk mail," he says, "but when I created it, I thought it was a work of art. I didn't know what I was doing. I thought I could just send the letter and wait for a reply. I didn't know that, with that kind of thing, you are lucky to get a one per cent response rate. But I was lucky. One company called me on a Tuesday night and by nine o'clock the next morning I was hauling a load of freight to Cleveland, Ohio."
That was technically illegal at the time, because in those days both the Canadian and American trucking industries were regulated – freight rates were specified and truckers had to have specific authority to haul specified freight over specified routes. Like other "gypsy" truckers, Einwechter got round the regulations by renting a truck in the name of the company that owned the freight and signing on with the company as a contract employee.
Einwechter had a summer job driving a garbage truck for the nearby city of Kitchener, and he had booked off sick to take the run to Cleveland. When he got back three days later, he found his job had been changed – from driving the truck to throwing garbage into it – so he quit. For the rest of the summer, he worked part-time for different trucking companies and made personal calls in an attempt to sell his services as a trucker.
"I kept calling on different accounts," he says, "but I was not making much headway. I guess they didn't like my platform shoes and the long hair I had then – I didn't fit their business image."
Finally, Einwechter managed to get a trucking job with Uniroyal, delivering tyres to General Motors in Ohio and Maryland. "I bought my own truck then – a six-year-old Freightliner cabover – and I had to borrow money from a finance company for it. The interest rate was 26 per cent, and the only reason I got the financing was that my girlfriend worked there. I bought the truck because I thought my business with Uniroyal was going to go on forever, but after I ran two loads, they lost the business with General Motors.
"I think I put 2,100 miles on that truck and then I parked it in a snowbank because I couldn't afford the insurance. It was cheaper for me to rent trucks, because they came with insurance, and I finally sold that first truck at a loss to a man who used it to haul tomatoes on his farm. But years later, I found it again and bought it back, and I still have it."
Einwechter kept on trucking while he attended university, and by 1977 he had six rented trucks on the road – but he was nearly $50,000 in debt and losing even more money. "Some friends wanted me to declare bankruptcy," he says, "but I couldn't do that because too many people had put their faith and trust in me. I didn't know what I was doing, but I was persistent – and what I lacked in expertise, I made up fo in effort."
His big break came in late 1979, when an electronics company called. "They had a urgent shipment to go to California," he says. "That's at least a three-day drive. They thought they might have to send it by air, but first they called me. I promised to get it there on time and it would cost about a third as much as airfreight, so they loved me. I went from being a bum to being a hero, and from paying my bills late to paying them early. For several years, I made a lot of money, and that's what put me in business."
In the mid-1980s, Canadian trucking was deregulated and, in 1985, Einwechter was one of the first gypsies to get a legal license. And that, he says, is when his education began.
"I used to think I'd like to have ten trucks," he says. "And when I got ten trucks it wasn't too bad, so I decided to go for 20, and then 40, then 80. But I had to learn to handle growth. Now I see that a lot of people get stuck in what I call the 'small-business syndrome', where they want to micromanage every invoice. In the trucking business, they want to hug and kiss every truck goodbye as it leaves the yard, but you can't do that. You might get away with it for 100 trucks, but when you get over 150 you have to change your management style."
Einwechter says he has learned to let his employees make their own decisions. "Sometimes they make decisions that I don't like, but when that happens, I have to remind myself that they are in charge. They are closer to the action than I am and, frankly, some of them are smarter than I am."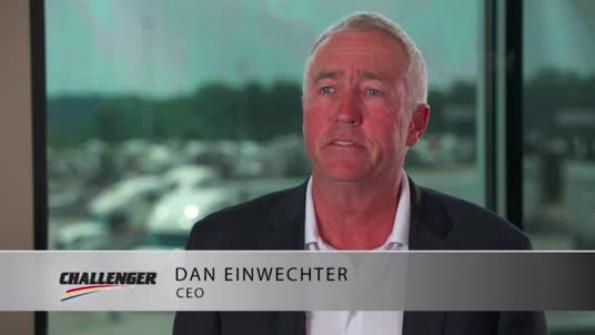 Dan Einwechter is still chairman and CEO of Challenger Motor Freight, but he has a team of five senior and eight mid-level managers, leaving him free to explore new business areas. One of these is warehousing. He got into the business in 1995, when he needed more space to park his trucks and the building next to his yard was for sale. Einwechter bought it for the four hectares of land that came with it, but he also got nearly 10,000 square metres of warehouse space.
Although he and his team did not know the business at first, they have become skilled at it. "We have some of the best warehouse-management systems in the world, and we do sequencing for automotive plants and some light, value-added manufacturing. One job is that we assemble parts into kits, so they can be delivered to a production line and the workers there have everything they need."
Einwechter has seen great changes in his business in the past few decades. "When I started Challenger, it was in the trucking business, but now we're in the customer-service business and we use trucks to meet a portion of our clients' needs. Transportation is still 85 per cent of our gross, but besides trucking we also do air, ocean and intermodal shipping. We charter planes to carry airfreight and we arrange container shipments, and right now we are chartering a whole ship to carry one customer's goods."
He still rides his motorcycle but, like Einwechter and the company, that has changed as well. His Harley Davidson has been replaced by a custom-made bike that costs more than most cars. The brash kid is now a multi-millionaire businessman, yet Dan Einwechter says sometimes he still has to look in a mirror to remind himself that it all actually happened.