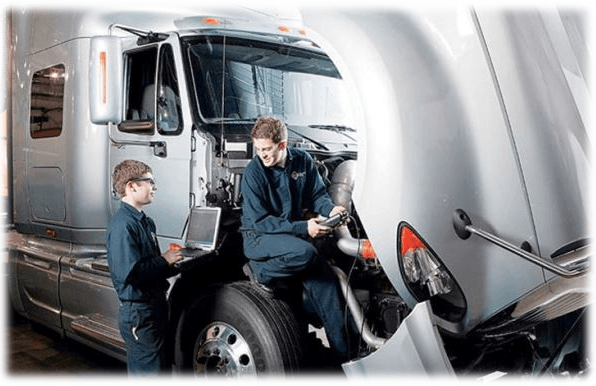 The different types of vehicles heavy equipment mechanics are tasked with maintaining and repairing include buses, excavators, trucks, tractors, loaders, trailers, and dozers. Trucks are classified most commonly based on the vehicle's GVW rating. GVW stands for Gross Vehicle Weight. A heavy-duty truck has a GVW of 11, 794 KG (26,001 lbs.) or greater.
Job Opportunities
Job opportunities for heavy duty mechanics are ample. Because heavy equipment such as trucks are bound to encounter mechanical issues at some point in time, there needs to be qualified personnel available to fix them. Such job opportunities include:
Medium to large trucking companies usually perform maintenance repairs in their own service facility.
Depending on your skill level and experience you may be employable at one of the semi-truck dealerships across North America. Semi-truck manufacturers include Volvo, Paccar, International, and Daimler Trucks.
Independent Repair and Specialty Shops
Independent truck trailer repair or specialty shops are other sources of employment for heavy duty mechanics. Specialty service shops include those whom focus extensively on one or two aspects of mechanical repair. For example, you may encounter shops specializing in powertrain, engine rebuilding, or HVAC repair.
Pay scale and working environment
Heavy duty mechanic salaries range based on specific areas but are generally between $30-$35 median range. More qualified certifications such as the Red Seal can lead to higher salaries.
Self-employment is another option to those whom may wish to perform repairs on behalf of their own business. Good business skills are often required to successfully operate a heavy equipment repair service. Consider a college or university program in business administration.
Relationships between business, labor, and government
When learning to become a heavy-duty mechanic, you will need to become familiar with the various business, labor and government relations. For example, legal requirements can be mandated through the Department of Transportation, Occupational Safety and Health Administration, and the National Institute for Automotive Service Excellence (ASE). The ASE manages certification of heavy duty mechanics in the United States. In Canada, heavy duty mechanics is a recognized trade and hopefuls require a Red Seal to be able to operate inter-provincially. Heavy duty mechanical trade is recognized as a union job in many provincial and state labor federations through the International Union of Operating Engineers.
Other legislation affecting the employment of heavy duty mechanics include:
Federal jurisdiction (National Safety Code/FMSCA
Employment standards
Labour relations code
Worker's Compensation
WHMIS
Motor Vehicle Regulations
Employee attributes
Heavy duty mechanics must meet physical and mental requirements for training and while performing jobs. Physical health is paramount as much of a mechanic's work has to do with standing, kneeling, twisting, grasping, pushing, pulling, and other physical movements. Manual dexterity is essential which means you must possess the hands-ability to grasp and manipulate objects during your mechanical work.
Employers of heavy duty mechanics must meet government regulations and fulfill responsibilities such as:
Provide a safe workplace
Provide personal protective clothing and equipment
Educate employees about hazardous materials encountered on the job
Use MSDS and warning labels.
Make a resume and learn to search for jobs
Job searching includes preparing resumes, cover letters, and general interview prep. Resumes for heavy duty mechanics should include their goals, skills, education, experience, basic personal information, and references. Cover letters should have an introductory paragraph, body paragraph, and a concluding paragraph. Interview preparation is concerned with the research of the company, review of job benefits, and practicing answering general questions that may arise in your heavy-duty mechanic job interview.
In conclusion, to answer the question; is heavy duty mechanic a good job? Absolutely, it is an excellent career choice.