Fuel cards for fleets are a necessity because they provide many advantages over using a traditional credit card to purchase diesel or LNG/CNG. Another term used for a fuel card is cardlock which is a system designed specifically for commercial vehicles.
This article will cover the best fuel card for owner operators and the best fuel card for a small trucking company who are based in Canada.
HuskyPRO Universal Fuel Card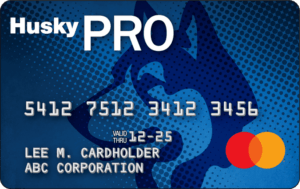 HuskyPRO Universal Fuel Card is the best option for owner operators and small trucking companies. Since Husky's partnership with Imperial Oil commonly known by its brand name Esso the cardlock network has over 150 commercial fueling stations across the nation.
The HuskyPRO Universal Fuel Card operates in partnership with Mastercard so essentially, it's accepted at any cardlock that accepts the MasterCard brand.
Security controls are standard with this fuel card. It allows you to lock cards to fuel-only purchases in order to prevent unauthorized use. You can also set dollar limits, per day, per billing cycle, or per transaction. You can also set time restrictions to allow the driver to only fuel-up within a pre-specified time period. Truck number's and odometer readings can be requested to ensure accuracy of fuel consumption as well as card security.
Card management is quite accessible through Husky's online portal. You can activate or deactivate cards, customize controls to allow purchases at certain locations and pumps, and authorize the use of the card for maintenance purposes.
Detailed reporting is available for each transaction and is provided in real-time. You'll be able to access your purchase history for up to 14 months on the iConnectData online site, but you also have the option to download and store PDF files to your computer. Bill payments can be made through the online reporting system.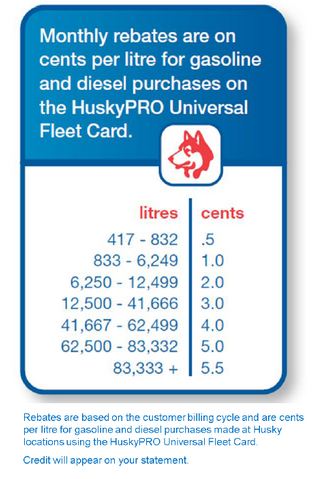 A downside to this card is that it is a fleet card so a minimum of 2 vehicles is required to be approved.
Every purchase at a participating Husky cardlock location is eligible for rewards in the form of a rebate program. A chart provided by Husky outlines the fuel discounts that apply to a particular company. Preferred pricing or privilege pricing is the term used when negotiations are made to provide a trucking business with price discounts. They are generally based on volume and sometimes have a maximum threshold.
If you're having a troublesome time finding a card or negotiating a fuel discount for your firm, consider becoming a member of an organization that can give you that access to lower prices. For example, the Canadian Professional Sales Association gives it members access to exclusive discounts with the Petro Canada Superpass, Canada's largest cardlock network.