A heavy-duty truck code reader is an electronic service tool (EST). Current day electronic service tools also called heavy duty truck scanners are handheld. NEXIQ is a major player in the handheld diagnostic tool market with their pro-link product line.
Newer model diesel trucks are become technologically advanced every year and this requires mechanics that are knowledgeable about using electronic tools to diagnose and fix problems. With a handheld diagnostic tool mechanics can access active codes, view system identification data, run diagnostic tests and more.
The Best Heavy-Duty Truck Diagnostic Tool

The best heavy-duty truck scanner on the market is most likely made by NEXIQ. Onboard diagnostics software is regularly updated by NEXIQ and can be downloaded according to the truck you are diagnosing. There may be a subscription fee for the software. Some products by NEXIQ include:
NEXIQ Blue-link Mini – A mobile vehicle interface that allows technicians to access diagnostics and communicate with heavy duty trucks to obtain basic information. It has a 9-pin port that plugs into the truck's diagnostics port.
NEXIQ e-Technician – Is a heavy duty diagnostic software that is used with a personal computer (PC). It is a complete suit to diagnose problems with heavy-duty engines, transmissions, brakes, trailers, body controllers, instrument clusters and emissions related technology. E-Technician HDS is the correct variant for the software made specifically for heavy duty trucks.
NEXIQ USB Link 2 – The USB link product line is sold in Bluetooth and WIFI editions and connects to a wide range of OEM software applications. It has a variety of adapters for the different types of diagnostic ports on trucks.
Therefore, for basic on-the-go diagnostics, the Blue-Link Mini is a great tool. For advanced diagnostics the USB link 2 by NEXIQ is the correct tool.
There are numerous other kits you can purchase to achieve full-service diagnostic capability. For example, the DrewLinkQ kit provides a RP1210 and a TruckFaultCodes.com subscription. It works with most universal diagnostic software.
Reading Fault Codes
There are usually four options when dealing with fault codes on a commercial motor vehicle during the diagnostic scanning process. These are active codes, historic codes, pending codes, and clear codes. You will need a rugged laptop for equipped with the right specs to run OEM diagnostic software.
The USB link 2 by NEXIQ is an adapter that will be need in most cases to connect and transmit the diagnostic information to the software. It is important to check with the OEM software provider the list of adapters or electronic service tools that are compatible. The Panasonic line of Toughbooks are a good place to start looking for a trucking diagnostic laptop.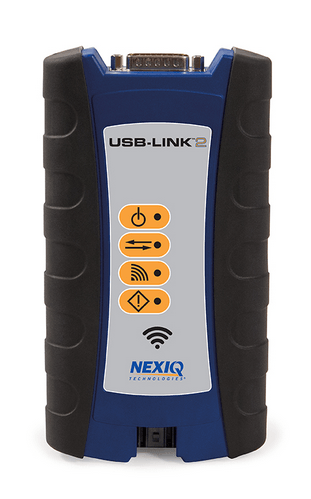 The diagnostic software is made by all the main original equipment manufacturers in the industry which include CAT, Allison, Volvo, Mack, Freightliner, Detroit Diesel, Meritor, Paccar, Navistar International, and Bendix.
Subscriptions to these software programs can range between a couple to several hundred dollars a year. For Volvo, you can find updates and information about their diagnostics software on Premium Tech Tool
For selecting the best heavy-duty diagnostics software setup please read our reference guide.
Conclusion
Utilizing the correct tools and understanding how to and when to use them makes the process of repairing heavy duty trucks a seamless one.
Lucky for you, we have helped ease the search and narrowed it down to the top 3 choices.