The best garmin GPS for truckers in the market today is the Garmin brand dezl 770 LMT. It will make life easier for commercial truck drivers as well as semi-truck operators.
However, some competing truck GPS units received some not so good reviews. PC Miller Navigator 430 is deemed not as user-friendly because directions given tend to be confusing and voice commands are unclear. The Rand McNally Intelliroute TND 700 truck GPS has a slow response time, vague instructions and it is unable to calculate on the best route to take. However, it is up to the driver to choose the best truck GPS unit to aid in his driving needs.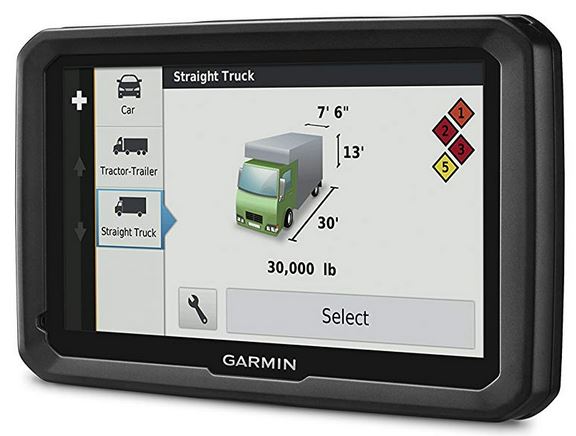 Like many vehicle GPS systems, a lot of the new truck GPS units have systems that warn drivers of traffic that helps them avoid costly traffic connections as well as to get to their destination on time. Just like in the trucking business where the concept "time is gold" is invaluable, these new truck GPS units make it a reality.
No longer is truck specific map data scarce.
Data that warns truckers of physical and legal restrictions that bar trucks and other oversized vehicles from passing on certain roads is now available to GPS devices.
The GPS software for a trucker should provide routes that take into account physical and legal restrictions for 18-wheelers and the like. Highways, tunnels, bridges and narrow roads can prove to be challenging and sometimes costly for you when driving your truck.
Truck route restrictions should include
Steep grades
Low clearances (height)
Weight restrictions.
Width restrictions.
Length restrictions
Speed limits for trucks
Turn restrictions
Dangerous bends
HAZMAT routing
Loading and unloading restrictions
And the ability to…
Input weight, length, width and height of the truck
Locate truck facilities and services
Recommend state level routes
Besides, the portable GPS unit should come with remote control – it comes in handy if your windshield is far away.
Garmin Dezl 770LMT
The Garmin Dezl 770LMT GPS is arguably Garmin's best truck GPS to date. One good thing about technological advancement is that it is never limited to one niche. If there are persons who need the help of technology in their day to day lives, they are truckers.
Accidents and other related issues do happen and don't reflect well on your insurance policy. Secondly, by making good use of technological gadgets like the Garmin Dezl 770LMT, your auto insurance coverage is bound to get you some discounts when you go for renewal.
Now, what are those features built into the Garmin Dezl 770LMT that have earned it a high level of recognition? The Dezl 770LMT is the best garmin GPS for truckers who want a system that has not only standard GPS features, but also truck-specific route highlighting, trucking speed limits, and trucking points of interest (POIs).
One notable feature about the dezl 770 is that its provisions for making sure the driver is treated to realistic photo views of approaching junctions. This is very important as most accidents occur at the intersections. You will be properly guided so that you choose the correct lane at the right time. Apart from that, the dezl 770LMT is designed to help truckers with restrictions associated with load carriage in the US and Canada. All you need do to enjoy this service is to input the load restrictions for both countries, and the dezl 770LMT will take it from there.
The Garmin Dezl 770LMT truck GPS incorporates a sizeable 5-inch display unit for a brilliant, clear picture. You will always have the specific route of your truck highlighted for ease of recognition. If for any reason you want to make an emergency call while driving, the dezl 770 LMT also is a source of help, in that regard, with Bluetooth wireless technology that comes with inbuilt microphone and speaker. It has an excellent touchscreen so that you can dial the number you want to call and talk , so you do not get into an accident due to divided attention.
The Garmin Dezl 770 is perfectly designed to give you information of possible services you might get from any location. It also has sophisticated navigation systems that will help in checking your speed limit, so you don't end up getting tickets too.
Since it is impossible for you to discern what may be ahead of you naturally, the dezl 770 LMT will help you out to determine possible ascent and descent areas so you keep your driving as safely as possible. With the integration of nüRoute technology, coupled with the critical Traffic trends and myTrends, truckers are bound to make their profession a safe and well decorated one too.
While myTrends allows you to save your popular destinations, thereby enabling dezl 770LMT to ascertain possible areas you may be going, the Traffic trends help the Garmin Dezl 770 to understand daytime trends for traffic flow, so you will be able to predict your ETA (estimated time of arrival). There are many more features that are embedded in the Dezl 770LMT to make your truck driving fun-filled and an interesting one to engage too. Check out Amazon.com for more information.
The Garmin Dezl 770 is a GPS explicitly made for truckers. The device allows for navigation based upon the truckload, restrictions, and classification. The GPS comes with street-level maps of Canada, the US, and Mexico.
The Garmin Dezl 770LMT will say the street name, so you can get precise instructions on where to turn. This truck GPS also has Lane Assist guides, which help truckers stay in the correct lane.
There is also a traffic monitor included, so you will be informed if there is buildup ahead or road construction is going on. The 770LMT also comes with hands-free calling and speaker/microphone. There is also Bluetooth technology built in.
Other Features of the Garmin Dezl 770LMT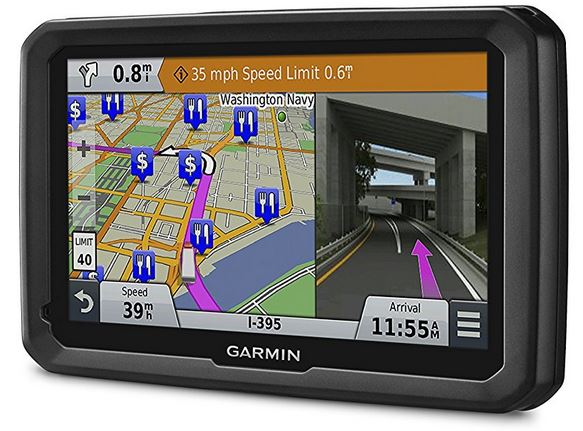 There is routing support for truck restrictions, from the height, weight, to the materials it is carrying. The unit measures 8.60 x 6.00 x 3.40 Inches  (W x H x D). The resolution is 7″ touchscreen glass display. It weighs 15.4 ounces (438.0 g).
The battery life is good for up to 1 hour unplugged. The points of interest include the National Truck and Trailer Services (NTTS) Breakdown Directory. This is a guide to semi-truck repair shops. This Garmin truck GPS supports multiple routing and can notify you of any sharp curves up ahead.
The Garmin Dezl 770LMT is a trucker's dream. Companies manufacturing GPS units have tried, on several attempts, to come-up with the perfect navigation unit to help truckers; especially long-haul truckers, not only to navigate through roads but also to get warnings about road mishaps or obstructions that they need to avoid.
While truckers had to contend with the common GPS units, Garmin was out developing what has now come to be known as a trucker's best friend.
What's It All About?
First, the essential features. As with any GPS tracking unit, the Garmin Dezl 770LMT provides drivers with a detailed map of how to reach their destination at best possible way and the soonest time reasonable.
There is also the Bluetooth technology that the unit is equipped with. This means that you can make hands-free phone calls so you won't have to take your eyes off the road while dialing a number.
It comes with touch and high-resolution 800 x 480 pixels screen that measures 7 inches providing you with apparent images.
More Special Features
Now, for the big picture. What makes the Garmin Dezl 770LMT so unique is that it is pre-loaded with a detailed directory of the National Truck and Trailer Services Breakdown Directory, plus points-of-interest related to trucking. It is pair-able with the Garmin eLog (which made it on our best electronic logging devices list), and has full hours of service tracking compatibility. You can even pair it with a wireless backup camera made also by Garmin to ensure you never hit something when backing a trailer up!
This means that you not only get a detailed map of the route that you are navigating, but you also get the truck-friendly routes. Again, what this means is that you suddenly won't find yourself driving down roads where trucks are prohibited from plying.
In addition to this, you can put the information about your truck such as make and model as well as the load that you are carrying so the Garmin Dezl 770LMT can make a profile and direct you to the right routes.
You also get several routes that you can take giving you the option of which one to consider, taking into consideration the stops that you would like to make and such.
Finally, the Garmin Dezl 770LMT has an FM traffic radio which gives you details about traffic along your route. The GPS unit will then give you alternative ways that you can take. You can get the 770LMT on Amazon.com for under $400.
Truck GPS units are getting more and more common. GPS for trucks can be very helpful for truck owners. For truckers that need to travel from state to state, know about traffic conditions, any available shortcuts and other road info, a truck GPS is crucial. It can spell the difference between getting the job done early or getting lost and stuck in traffic.