All transportation relies on technology. The internal combustion invented in the late 1800's gave way to an emerging and healthy trucking industry. Since then, trucking has impacted everybody's life. If trucks do not move, essential goods such as food, hygienic products, and furniture will be scarce in supply.
In the past, truckers relied on payphones and citizens band (CB) radios. As transportation technology has evolved, it makes it easier for truckers, dispatch, and shipper(s) to communicate and relay messages. New trucking technology includes broadband, BlueTooth, WiFi, GPS, and mobile.
Technology plays a significant role in the transportation sector because it allows big and small trucking companies to streamline performance, simplify record keeping, and improve communication.
New truck drivers are trained by truck driving schools to be able to use technology in their daily routine. Training dedicated to learning the operation and application of advanced technology can be of great assistance in the trucking sector. For example, vehicle maintenance and information of a load can be managed by using the best truck software.
Moreover, owner operators can take advantage of new technologies such as weather updates and highway traffic data.
The human resources and recruitment part of the trucking industry rely heavily on computers and the internet to be able to find the best talent. Each year lots of truck drivers find jobs through the world wide web.
A particular kind of technology made by Inthinc Technology Solutions is the touch-screen driver interface made to improve the safety standards of the trucking industry. For example, the software can notify the company and driver if unsafe behavior is detected. In turn, your business is less likely to violate any trucking laws.
In today's trucking industry, knowing how to use technology devices is growing to be an entry requirement. Low computer literacy skills can mean slower career progress.
The purpose of this guide is to give you a report of today's transportation technology and how it applies to the trucking industry.
Types of transportation technologies
Tracking devices
Fuel Management
GPS (global positioning system)
On-board recorders
Cellular phones
CB radios
Laptop computers.
Truck regulatory compliance software
GPS (Global Positioning System)
The GPS was invented in 1973 by the United States Department of Defense. It is a space built satellite system that pinpoints exact location and time. It can operate in any weather condition. In 2007 the GPS became open to public use via a receiver.
The FHA requires GPS units to be accurate as the EOBR allowed by the FMCSA.
The best truck GPS is the Rand Mcnally IntelliRoute TND 520. It is specially designed to assist truck drivers in finding directions. For example, the fuel log helps keep track fuel purchases, organized by date and state. It also shows current weather conditions, roadwork construction updates and more.
GPS Tracking
In tight economic times, carriers are looking for a way to streamline asset management.
A straightforward and cost friendly method to prevent loss of an asset is GPS tracking. GPS tracking is different from GPS navigation.
GPS tracking is used by companies to know certain metrics about their fleet. These parameters include real-time location tracking, speed, route information, and Geofencing.
Geo-fencing is a GPS tracking feature that tells the end user if a truck has breached the virtual barrier. In simple terms, geofencing is a geographical fence that a driver must stay within.
GPS tracking is beneficial to trucking businesses for many reasons. Firstly, it ensures all assets are secured and protected from theft. If a robbery does occur, the end user can identify the location and quickly inform law enforcement.
Moreover, GPS technology helps fleet managers to create a tracking system which clients can access to know where the load is in real-time.
Companies that choose to use GPS tracking can earn deductions for their insurance premiums. Mostly, you will save money on insurance and protect your assets.
What is the best GPS fleet tracking system?
Fleetmatics is the best GPS tracking system for trucks. It provides an easy to use platform that can monitor baseline telematics, internal antennas, wireless communications, and over-the-air programming. The system can locate a truck's exact location and track working hours for your drivers. It can also be installed into your commercial vehicle's OBDII port to keep track of fuel usage and mileage.
For more information refer to the best truck gps systems.
Fuel Management and Usage Data
Fuel-force is a fuel network that monitors and provides reports on fuel usage. A fuel management system can help your trucking business. For instance, you have 15 trucks that spend 25 minutes each day filling the gas tank with fuel. That equates to 6.25 hours each day that the trucks are not on the road. Over a year this can result in a loss of hundreds of thousands of dollars. Luckily there are on-site refueling services that trucking companies can utilize to improve up-time. This way, drivers spend less time waiting and more time earning. Check out this video to learn more about on-site refueling for trucks
Laptop Computers
As more and more companies have switched to managing paperwork on the computer, drivers across North America are documenting their driving stats on laptops.
Drivers now have wireless and port connections to the Internet so that they may manage their paperwork during breaks. Tasks that are performed by using a laptop include emailing, scheduling loads, and communicating with shipping and receiving contacts.
In our opinion, the best laptop for truckers is the Panasonic Toughbook. It is well-built and can endure extreme conditions such as drops, ice roads, and storms. From a performance perspective the laptop is equipped with Windows 7, 320 GB 5400 rpm Hard Drive, Intel HD Graphics 4000, and more.
Electronic On-Board Recorders (EOBR)
An electronic on-board recorder is a device used to measure the driving time of commercial trucks.
It was September 30, 1998, when the Federal Highway Administration allowed the use of EOBR devices.
The Federal Motor Carrier Safety Administration (FMSCA) proposed a rule on January 1st, 2011 requiring interstate commercial truck carriers to document their driver's hours of service.
Commercial truck carriers use the EOBR to document Records of Duty (ROS).
Hours of service (HOS) is another part that is managed by EOBR. Hours of service is the regulation set forth by FMCSA to limit the working hours of a driver. It is mainly regulated to prevent driver fatigue that results from drivers operating commercial trucks for extended periods of time.
A flaw with EOBR is the fact that it cannot automatically detect the time or duty status. In simple terms, drivers must manually punch in what they are doing during the time the truck is not moving.
Citizens Band CB Radios
The CB radio first used in 1958 is still a standard piece of technology used by the transportation sector. CB radios help the trucking industry as a whole.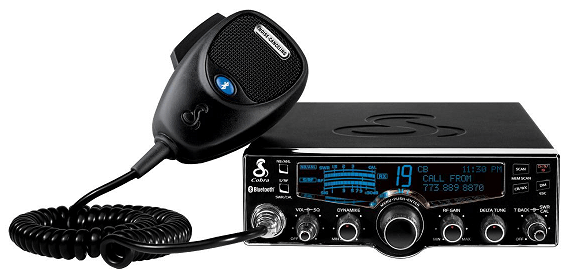 For shippers, CB radios meant that they could communicate with dispatch or directly with the driver with information related to docking instructions.
Professional truck drivers rely on CB radios to locate fuel, get speed check stop info in advance, traffic reports, and route directions.
Mobile phone
The cell phone was first invented in 1947 to replace landline telephones. When there were no mobile phones, truckers had to rely on pay phones to contact dispatch.
Over time, the cell phone has grown in popularity and usage. Today, all professional truck drivers carry either a personal or company mobile phone. Cell phones help truckers to check in with dispatch as well as stay in touch with their families.
Modern day cell phones offer far more features than just calling. For example, cell phones provide traffic updates, Internet access, email, text messages, and more.
The bad news was in 2012 the FMCSA banned the usage of cell phone while interstate and bus drivers are operating a commercial vehicle.
Distracted drivers who are driving and using their mobile phone pose a high safety risk.
Luckily, truck drivers can continue to use the features on their cell phones by opting to install a hands-free method. For instance, to use a mobile communication device, drivers must use a Bluetooth headset, integrated vehicle cell phone system, or a hands-free speaker.
Truck Regulatory Compliance Software
To keep drivers safe, the transportation industry is highly regulated by federal organizations such as the Department of Transportation (DOT), Federal Motor Carrier Safety Administration (FMCSA), and the Free Trade Area (FTA). The industry is also regulated by many state and local organizations.
To make it clear, regulation means the guidelines or laws set forth by the organizations mentioned above.
Each year many regulatory organizations make changes to their rules or laws. All trucking companies, freight brokerages, and other transportation businesses must follow the guidelines. Keeping track and ensuring that your trucking company is in compliance with the laws can be very challenging.
For the above reason, you can utilize truck regulatory compliance software. This type of software can manage permits, fuel taxes, and license and international registration plan renewals.
Trip Management software
Trip management software can track and report data on each vehicle. Performance and comprehensive data reports on the service information, engine usage, fuel consumption, and more can be tracked in one easy to use software program. Other features trip management programs such as such as Tailwind Enterprise include equipment maintenance, IFTA mileage tracking, dispatch, and POD imports.
Driver Log Auditing
Auditing your driver's logs is important if you wish to sustain or grow your trucking business. By utilizing software, you can keep track of fueling, unexpected drug tests, roadside inspection, and have access to all Department of Transportation information. Using a software means you can manage all driver log paperwork digitally, saving you hours of time. It is easy to download a fleet's log management when you opt to handle a large amount of log data digitally.
Conclusion
By completing reading the entire guide, you now can identify many of the transportation technologies in use today. As wireless communications are continually being updated and developed, having the knowledge to use new technology is becoming a required skill for professional drivers. In conclusion, technology will shape the future of transportation and transportation will keep shaping our lives.