A weigh station or scale house is a checkpoint along a highway where commercial vehicles are inspected for weight compliance.
Weigh stations are equipped with truck scales that measure the weight of the vehicle. There are many types of scales that are used at the stations such as single axle and multi-axle.
Scales are often 'weigh in motion' which means the vehicle is permitted to continue moving while the truck is being weighed. As a result, 'weigh in motion' technology improves the fleet and scale house operation efficiency. Weigh stations, commonly called scales are generally found on the right-hand side of the travelled highway but scales do exist which require the driver to exit from the left lane into the station which is located between opposing lanes of traffic.
Scales can be in the middle of opposing lanes of traffic or off-highway on the right-hand side. Flashing signal lights indicate to drivers if the scale is in service. All scales in Alberta are 'weigh in motion' meaning trucks only need to slow their speed down to about 10km/h. If the scale is not in service or operational, drivers are still able to enter the station premises to self-weigh their axle loads. The main difference here is that there are no enforcement officials present to conduct a level 1 (there are 7 total levels) or above CMV inspection.
Trucker Path Review
Trucker Path is a useful application available on iOS and Android devices that provides a variety of information to truck drivers across North America. One of the biggest feature and perhaps a controversial one is that it allows truck drivers to view if a weigh station is open or closed. This positions drivers to be better prepared before entering a scale house. Some industry persons have stated it detracts from the randomness of the business hours that scale houses aim to operate within. For example, most weigh scale stations do not publicly display the hours within which they are open or closed and commonly state their operating hours as 'random'. The application also directs drivers to the nearest truck stops and resting areas. The app is free, but there is a premium mode that offers some additional features. There are ads displayed within the app, but the advertisements are relevant to truckers and are of good quality.
Weigh Station Bypass Service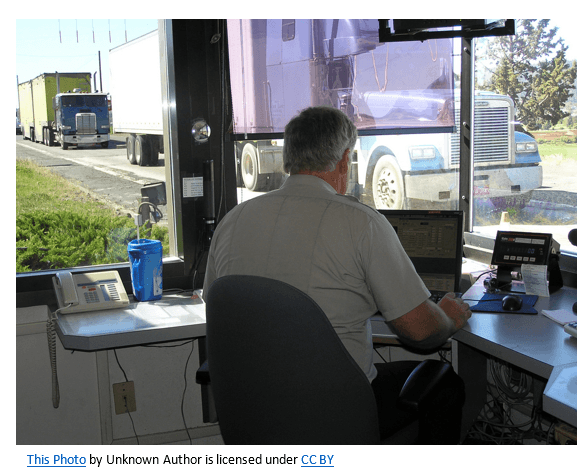 Weigh scale bypass programs are generally eligible for enrollment by trucking companies that have an excellent record of safety and maintenance. The financial and resource benefits for being enrolled in a weigh bypass station can be significant. For example, if it a driver loses an average of 10 minutes for each scale he/she passes, and the driver must pass a scale 12 times per week, then that results in 2 hours of savings for each driver per week. For a 10-truck fleet that results an average of 4000 miles and 80 hours of driving time loss! Each province and state will generally have its own weigh scale bypass program and most require the use of a transponder. A transponder communicates to the driver whether they must stop for a random check must in most instances, the truck will be clear to bypass the scale.